The Metro Atlanta Chapter of Southern University Signature Events serve as the catalyst through which the chapter generates scholarship funds to provide financial support to prospective and current Southern University A&M College students residing in the Atlanta area. The Scholarships are awarded to students based of their academic achievement, educational objectives, and career aspirations and used towards tuition, housing, out-of-state fees, books and school supplies. The success of the Metro Atlanta Chapter signature events can be attributed to the financial contributions and continued support of the Metro Atlanta Chapter alumni members, businesses, non-profit organizations and the Atlanta communities. Metro Atlanta Chapter of Southern University signature events takes place throughout the year beginning July of the current year and ends June of the following year. Note:  Signature Events are marked with an asterisk*
Founder's Day National Academic Signing Day Bayou Bash* Golf Tournament* HBCU Alumni Alliance 5k Walk/Run*  Atlanta Achievement Award Banquet Holiday Party in lieu of Meeting The Metro Atlanta Chapter of Southern University wish to thank you for your support.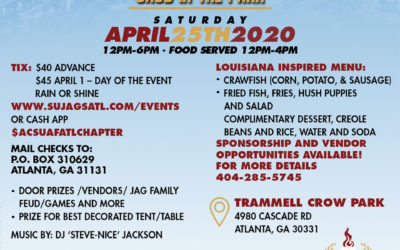 Vendor Registration As an exhibitor/vendor, you will be able to sell your goods/services to our local alumni chapter members, as well as members of the community. Sponsorship Opportunities There are several ways you can support this event and SUAF -Atlanta hopes...
SU-ATL Calendar Of Events
Monthly chapter meetings are held on the 1st Saturday of the month at 1:00 pm, unless otherwise noted (with asterisk).